"We will resound in the new world and send off the old laws; therefore, we are the Töten Glocke!!"
—Asiz in his final struggle against Alastor.
Töten Glocke (とむらいの鐘, Tōten Gurokke?, lit., "Death Knell") is the Crimson Denizen organization composed of its leader "Weaver of Coffins" Asiz and the nine Crimson Lords under the name of the Nine Eternal Divine Scales. They are powerful Lords who controlled part of Europe in the Middle Ages, with great armies of Crimson Denizens under their command, and are one of the strongest forces of their time, rivaling that of Bal Masqué.
Organization
[
]
The Nine Eternal Divine Scales (九垓天秤, Kugaitenbin?) are nine powerful Lords who serve under Asiz and the Töten Glocke as an Inner Circle: Molech, Merihim, Illuyanka, Jarri, Chernobog, Ullikummi, Sokar, Ninurta, Huwawa.
Known Members
[
]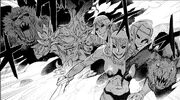 Nine Eternal Divine Scales

[

]
Pair of Wings
[
]
Others
[
]
[

]