"If I kill and kill and kill and kill and eradicate all evil, I'll eventually run into the one responsible. There has to be some fun in this war!"
—To Haborym about the death of CenterHill.
SouthValley (サウスバレイ, Sausubarei?) is a Native-American Flame Haze who, with the other three, are known as the Four Gods of Earth. He has the title "Evoker of Demon Horde" (群魔の召し手, Gunma no Meshite?) and along with Tezcatlipoca, his contracted Crimson Lord, is widely feared by many Denizens. His nickname is "The Man Who Guides the Dead" (死者の道を指す男, Shisha no Michi o Sasu Otoko?).
SouthValley is a short, youthful looking man of a tanned complexion who usually has his eyes shut. He has straight brown hair that comes down to his shoulders and parts it at the front to expose his forehead. He wears a grey suit over a white shirt and brown tie. His fedora compliments his suit. SouthValley wears a poncho which has a purple, cream and brown colored pattern over his suit. He seems to have lost his left foot before his contract with Tezcatlipoca, and is now using a crudely made wooden prosthesis. Tied to the bottom of his suit jacket is a pointed stone medal named Teotl, which is Tezcatlipoca's Divine Vessel.
Of all the Four Gods of Earth, he is the only one that seems to really look down on humans, calling them "commoners", implying he was once royalty. He is also notably more vicious than his compatriots, reveling in the carnage and fear created by his walking dead as shown in the final battle in Misaki City. He is also compassionate, wanting to avenge CenterHill's death and eradicate evil.
Despite his smiling face, his voice is notably very vicious and cruel, all while retaining his smile.
When he was human, SouthValley was once a prince who cut off his chained leg in order to escape.
In the 19th century, the Four Gods and their comrades had plotted to destroy the government of the United States to liberate their fellow natives who had suffered from the invasion of white people. Many Flame Haze stood up to stop the plot, leading to the Civil War where the two groups of Flame Haze fought, but this would cost dearly as the balance of the world had collapsed and the Denizens were wreaking havoc as they pleased. The Four Gods had no choice but to abandon the plan, along with the passion to protect the world that expanded by sacrificing their fellow people and the great earth. With a suggestion from a Tuner, they each became the keeper of the four Outlaws in four major cities of North and South America. Now, SouthValley runs one of the Outlaw branches in the United States.
Misaki City Final Battle Arc
[
edit
|
edit source
]
SouthValley, along with WestShore, flies to the Hong Kong International Airport to meet up with Shana and Chiara. As they get off their flight, SouthValley shoves away a group of people that WestShore had gathered and the two greet Shana and Chiara. He introduces himself to Shana, who he had met for the first time. Later SouthValley, WestShore, Shana and Chiara meet up with Margery, Wilhelmina, Khamsin and Seere at EastEdge's New York Outlaw post. Shana tells them all that she will attack Bal Masqué's headquarters. The three members of the Four Gods of Earth explain that they will decide to help if what the God of Creation is doing is wrong and will stop the Denizens from causing a great catastrophe. SouthValley then asks Shana tells them CenterHill's message. She does, the message being that the decision to fight isn't wrong, making up the Four Gods' minds to go with her.[1]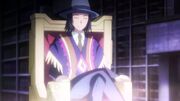 SouthValley and the other Flame Haze attend a meeting headed by Alastor and Shana, where Alastor concludes that he will condemn Bal Masqué for their sins. Later, SouthValley arrives in Misaki City, being chaired by his Dead army as they march through the city, before being halted by Haborym. SouthValley tells him that he has heard of Haborym from Shana, calling him the "Leader of Evil". He asks Haborym if he killed CenterHill, and he responds that that victory was because of his Commander and General. SouthValley then states that he will kill repeatedly until he faces the one responsible for CenterHill's death.[2]
A large group of Denizens approach SouthValley, calling him a "God of Death (死神, Shinigami?) before attacking him. SouthValley's Dead army easily defeats the group and SouthValley and Tezcatlipoca watch them being devoured with delight.[3]
After Shana uses her Chorde rings on the World Egg, she uses Shinpan to explain to the Snake of the Festival and to the Flame Haze, including SouthValley, their new law for Xanadu; humans can't be eaten by Denizens. Later, SouthValley faces off with Haborym, when he is asked by the latter why he is still marching when Shana has completed the Flame Haze objective by altering Xanadu. He explains that he will keep killing to eradicate the feeling of devouring humans. Haborym refers to SouthValley as a pawn, causing him to start to give him a message.[4]
SouthValley watches on menacingly as Haborym's cannon Rinne fire on his Dead army.[5]
SouthValley, along with everyone else in the area, senses Rofocale performing Shōhi Ginsei and listens to Shaher, the God of Guidance, talking about the Heir to Both Worlds. Later, SouthValley joins the rest of the Flame Haze around the dying Khamsin after the majority of Bal Masqué journeys to Xanadu. They watch as he passes away.[6]
SouthValley and the other Flame Haze watch as Kazumi passes the newly-born Justus to Wilhelmina. After Seere and Chiara arrive, Rebecca Reed meets up with the group on board the Tendōkyū. EastEdge states that he, SouthValley and WestShore will lead the one-thousand, two-hundred and twenty-five Flame Haze on Tendōkyū to Xanadu. SouthValley then flies into the path that leads to Xanadu and is converted into light.[7]
...
Pachacuti (パチャクチ, Pachakuchi?): SouthValley's power is to summon an army of golden-masked clay soldiers which he calls The Dead (亡者, Mōja?). The dead army will attack Denizens and devour them by sucking them into their mouths, thus allowing them to multiply themselves. What is left of the eaten Denizens' Power of Existence will automatically turn into soil and gold which forms the Dead, changing the power into a stable state.[2]
Hishō (飛翔?, Flight): SouthValley is capable of flight by using Power of Existence[8], which he demonstrates when he travels upwards towards the tunnel which leads to Xanadu.[7]
Community content is available under
CC-BY-SA
unless otherwise noted.