Introduction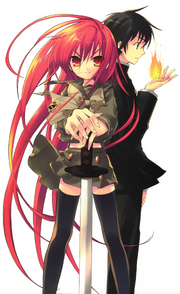 Inhuman beings known as "Crimson Denizens" rampage in the shadows of this world. They cross over from the Crimson Realm, a world right next to this one which can't be reached by foot. They manifest themselves and bring forth impossibilities by stealing humans' source of existence, Power of Existence. They do as they please until they are destroyed.
Humans whose Power of Existence have been devoured by Denizens would cease to exist. This loss causes the state of the world to distort. Due to the Denizens' unrestricted rampancy, these distortions were growing larger.
Among the powerful Denizens, the Crimson Lords, some began to think that the large distortions would one day cause a Great Calamity to befall both this world and the Crimson Realm. Thus, those Crimson Lords decided to hunt their brethren. Their weapons were humans who wished for revenge against Denizens and had offered their entire existences as the Lords' Vessels and gained superhuman powers... they were the Flame Haze.

On that day, the boy, who lost everything after Denizens eroded his normal life and was told that he was a fleeting existence known as a Torch, and the girl, known as the Flame Haze of the Nietono no Shana, met.
This is the story of the Mystes Yūji Sakai and the "Flame-Haired Burning-Eyed Hunter" Shana.
Featured Article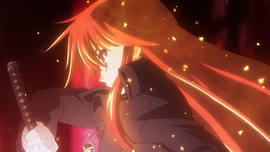 The End of Everything, The Beginning of One Thing is the first episode of the anime series Shakugan no Shana. Yūji Sakai, an ordinary high school student, stumbles upon a hidden world frozen in time, full of monsters who devour human existence, and meets the girl with flaming-hair and burning-eyes. He finds out that his existence had been consumed, leaving him to slowly fade away as a Torch, a temporary replacement of a human.
The episode first aired on October 6, 2005.
read more about our featured article here.
Latest Release
Side Story: Quiddity
Released April 10, 2020
Featured Media
Shakugan no Shana ~Final~ Trailer
on Comiket 80
Helping Out
To write a new article, just enter the title in the box below.
Not sure where to start?
Register to become a new member of the Shakugan no Shana Wiki Community!
If you are new to Wikis, check out the tutorial.
Adding content