"Overture (Part 2)" (オーバーチュア 後編, Ōbāchua Kouhen?) is the fourth and last episode of the anime series Shakugan no Shana S.
On a Friday night, using Junko's necklace, the Flame Haze of the Nietono no Shana tries to recollect Junko's memories to link her with the Denizen whom they are searching for in Yosegi City. To the surprise of many of their classmates, the "batch's heartthrob" Yukio Hamaguchi has been seen together with Junko Ōgami. In previous event, Yukio tells Junko about his feelings for her. At one occasion, Junko wears a gift she recently received from Yukio--a bracelet made out of semi-precious stones and agrees to go to Jōshi Park. There, they spend the rest of the day enjoying ice cream and looking around.
As the afternoon turns to night, Yukio gets Junko's permission to take her to Jōshi Park regularly. Then, Yukio promises Junko that they will be together, and there, gives her a gentle kiss on the lips. Unfortunately, this was seen by her mother. Junko's affair with Yukio brought up an argument between her and her mother; this eventually concluded with Junko running away for the first time and leaving pieces of her bracelet scattered on the front porch.
At nighttime, Yukio meets up with Junko at the park. Junko leaves for the restroom while Yukio encounters a mysterious photographer who wishes to take his picture. Although he has worries at first, he finally agrees. After a short photo session, the photographer requests Yukio to meet him again in better-looking clothing; Yukio agrees for Saturday, and the photographer leaves. Meanwhile, Junko Ōgami has already become a Torch.
At the present, the Flame Haze finally pieces up a possible link between the photographer and Junko becoming a Torch. However, she is still baffled as to why Yukio was spared when Junko was consumed. Alastor suggests to use their next meeting with Yukio to know the photographer moreand she goes with the plan. However, she wants to keep herself from being too attached to Junko's mother and does not want to wear Junko's bracelet. She was forced to wear the bracelet anyway since Junko's mother insisted.
She goes to meet up with Yukio as planned and they walk together. Despite being present, the Flame Haze's mind is still focused at the Crimson Denizen lurking around Yosegi City. Yukio notices this and asks if the trip was not interesting. She is compelled to act more like Junko and thinking that holding hands would make him happy, she grabbed Yukio's hand. It surprised him a little but after the Flame Haze told him about Junko's mother, he feels relieved.
They soon arrive at Jōshi Park and decides to wait for the photographer. As Yukio gets some juice for both of them, the Flame Haze consults Alastor on what to do. She deducts that the distance between Yukio and Junko at the time of the latter's devouring is about 15 to 16 meters - more than enough an area for a Fuzetsu. This does not clear up the reason why Yukio was spared, however. The Flame Haze wonders if the Denizen would make an appearance. Then, Yukio suddenly disappears.
Shocked at the sudden turn of events, the Flame Haze rushes to look for Yukio. The search leads her to a construction site, where traces of flames make her certain that a Denizen is there. As she follows the trail, Alastor comments on how unorganized the Denizen's escape was; on the other hand, the Flame Haze notes how he could move without her noticing.
The Flame Haze's eyes and hair turn crimson and as she reaches the roadside, she feels the presence of the Denizen inside a truck. She manages to hold on to the truck and using her Nietono no Shana, she makes an opening and barges inside the trailer. It was empty and suddenly, the truck enters a moving Fuzetsu. As the truck unleashes unseen chaos from the outside, the Flame Haze finds herself surrounded with pictures embedded inside bubbles. Soon, a mass of those bubbles become an unusual form and it talked to the Flame Haze, introducing himself as Ukobach and telling her about his wish of possessing the most beautiful appearance. The Flame Haze despises his wish, as she deems it impossible for someone who is weak and small.
She insists that he return to the Crimson Realm and give up his desire. Ukobach refuses, and even uses the many people he uses for his plan as hostage. He then exposes the fact about the Torch of a man who has been missing for 10 years: that it was one of his victims, consumed because of his age. Ukobach attacks the Flame Haze. However, it was an easy attempt to fend off his attacks and the Flame Haze defeats Ukobach while preserving the Treasure Tool he uses. However, with the Crimson Denizen vanquished, the truck is now more dangerous than before. The Flame Haze diverts her attention to the truck and safely brings it to a halt.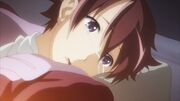 Meanwhile, Junko's mother awaits for her daughter to come back. She thinks of what she is doing to be late, but also understands that she is of proper age. She then becomes interested in meeting Junko's boyfriend. Yukio finds himself in a hospital bed among others, namely foreigners. He remembers nothing about being abducted, and only remembers about Junko being with him. However, Junko is not around, and only her bracelet is left on his hand. Yukio finds himself in tears.
The Flame Haze continues on her journey, and voices out her distaste for interacting with others using another person's existence. Alastor assures her that there will be a time when someone would accept her as herself. She doesn't prefer Alastor's remark, and instead, wishes to challenge more powerful Crimson Lords.
Next stop: Ooto in nine kilometers, and Misaki City in twenty-eight kilometers.
In Closing Credits: A slideshow of Junko's life, with pictures of her friends, family and Yukio.
Epilogue: The Flame Haze of Nietono no Shana, Shana, recollects on meeting up with Yūji Sakai and various memories in Misaki City, including "the day when they separated". Shana and Yūji stand on each of the two towers of the Misaki Bridge and Shana tells Yūji, "We meet again, Yūji."
Characters in Order of Appearance
[
edit
|
edit source
]
* denotes if the character debuts in this episode
Shana (unnamed)
Junko's mother
Ōgami's Residence
Junko's school
Jōshi Park
The epilogue in the story is one part of the story before the encounter of Shana and Yūji Sakai who is contracted with the Snake of the Festival in Shakugan no Shana Final Episode 04 and it is a hint that Shakugan no Shana Final is going be on air.
This is the 4th Featured Article.

Shakugan no Shana S Episode 04 has been featured, meaning it was chosen as an article of interest.
Community content is available under
CC-BY-SA
unless otherwise noted.