Shakugan no Shana Fūzetsu Battle (灼眼のシャナ 封絶バトル, Shakugan no Shana Fūzetsu Batoru?), also known in the short form FūBato (封バト?),[7] is an online mobile social game by Mobage. The game is free-to-play, but some items can be bought.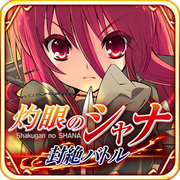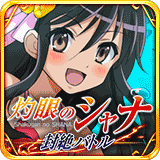 Shakugan no Shana Fūzetsu Battle can be played on two main smart phone operating systems, Apple's iOS or Google's Android. It is recommended for the game to be played on an iPhone 5 or later with iOS 7.0 or later and the Safari web browser or on Android 4.2 or later with the Chrome browser. However, the game can be played on an iPhone 5 or later with iOS 6.0 or on Android 2.3 with the Chrome browser or a more standard web browser.[3]
The browser version of the game was released on July 7, 2015, whereas the release of the Android and iOS application versions and preregistrations were handled by Yoyaku Top 10 and were scheduled to be released in September of the same year. The Android application was scheduled for a mid-September release, and came out on September 28. It is rated E10+ on the ESRB, PG on the Australian Classification Board, and similar tiers on rating authorities in other countries.[4] The iOS application was scheduled to be released in late September,[8] but the release date was pushed back several times before eventually being released on November 26.[5] As of October 27, 2015, 100,000 users had played the game. On July 27, 2016, the game was released as a Chrome App for use on PCs through Google Chrome,[6] though the application does not support Linux operating systems.[9] On May 25, 2017, an enhanced version of the game called Shakugan no Shana Fūzetsu Battle R was released by Arc, Inc. on the DMM GAMES platform. Subsequently, the original Fūzetsu Battle game will end its service on August 29.
Promotion
Edit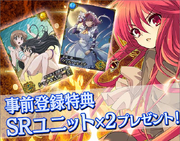 Preregistration for the game began on July 8, 2014,[10] a year before the game's release. If a preregistration was made, the player would receive 2 limited SR rarity cards, and these were revealed on a later date to be "Two Sides of the Same Coin" Wilhelmina (『表裏一体』ヴィルヘルミナ, "Hyōri Ittai" Viruherumina?) and "Love That Entangles the Sky and Sea" Shana and Kazumi Yoshida (『空と海と交錯する恋』シャナ&吉田 (一美), "Sora to Umi to Kōsaku Suru Koi" Shana and (Kazumi) Yoshida?).[11]
On the Mobage game platform, the player can create an avatar that would be used on all Mobage games played on the same account. Avatar items such as hair and costumes of Shana, Wilhelmina Carmel and Margery Daw were made available for purchase, and could be collected in order to create four different animations for the avatar.[12]
Game Synopsis
Edit
The original Shakugan no Shana story is faithfully reproduced as the player oversees battles. In the game you can deepen the bonds between Shana and the other characters and gain and train Treasure Tools and Unrestricted Spells that will give the player an advantage in battle to destroy Denizens and other attackers.
Fūzetsu Battle features Japanese voice acting. All the SSR cards and most of the SR cards of Shana, Wilhelmina and Hecate have a unique phrase attached to it, and the contents of the "Bonds" mode of gameplay has full voice acting implemented to it.
Yūji Sakai was a high school student living an ordinary, everyday life, but with the appearance of a monster, he had become involved in an extraordinary world and encountered a girl with no name. The girl was one of the Flame Haze, whose mission was to eradicate the monsters known as Crimson Denizens.
Yūji finds out that he had died without being aware of it, and the girl also has a reason to protect him. Yūji names the girl "Shana". The two repel and mutually attract each other.
The epic story of Yūji, the boy whose everyday life was robbed by the Crimson Denizens, and Shana, the girl whose mission is to eradicate those very Crimson Denizens, begins.
Characters
Edit
Shana: A Flame Haze girl who wields the power to destroy Crimson Denizens, inhabitants of a different world who devour humans. When she uses her powers as the "Hunter", her hair and eyes emit their own flames and are dyed in the same crimson color as those flames. She alienated herself from the ways of the world and had a determined and unyielding personality, but after meeting Yūji Sakai and living in Misaki City, she seems to have begun to display a more feminine side.
Yūji Sakai: A boy who has become a Torch, a substitute of human beings whose existence has been eaten by a Denizen. While being troubled with his circumstances of being already deceased, to protect the people of his city, he confronts the threat of the Denizens along with Shana. He has a characteristic of being gifted in insight and discernment, which has often saved his comrades from crises.
Kazumi Yoshida: A classmate who loves Yūji. She is family-oriented and makes lunch for Yūji. She has an introverted personality, but she has hot and strong feelings. She lets these feelings out through her love rivalry with Shana. She stays around Shana and Yūji and has a good rivalry relationship with Shana.
"Flame of Heaven" Alastor: A Crimson Lord who has formed a contract with Shana and resides inside her, giving her her powers. Denizens call him the "Retribution-crazy God" (天罰狂いの神, Tenbatsu Gurui no Kami?), and even among the Lords, he is exceptionally powerful. He is a father figure and a teacher to Shana.
Battle Mode
Edit
A strategy-type battle mode where the aim is to destroy the formidable enemies that are attacking the player's party of characters. There are also Treasure Tools and Unrestricted Spells with varying abilities, and these features greatly alter the aspects of the battle.
Deck Formation
Edit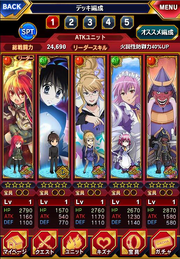 see full article: Shakugan no Shana Fūzetsu Battle/List of units
The characters in the game, known as units, can be of two types, ATK units and SPT units.
ATK units - These characters can attack enemies. Up to five ATK units form the player party. They have a level, hit points (HP), attack points (ATK) and defense points (DEF). One of the ATK units are elected the leader of the team and their "Leader Skill" affects all the other ATK unit characters in the party.
SPT units - These characters can support the ATK characters in the party, usually by adding or removing statuses from the player's units or the enemies. Up to five SPT units form the support party.
Unit Strengthening
Edit
The "Unrestricted Insignia of Strengthening" (強化の自在式, Kyōka no Jizai-shiki?) can be used to strengthen the status of a character through leveling it up with EXP (experience points). The insignia can be obtained from battles or trading with friends through a friend gacha (フレンドガチャ, Furendo Gacha?).
Unit Limit Breakthrough
Edit
The item "Lithograph of Evolution (進化の石版, Shinka no Sekiban?) can be collected in order to increase the maximum potential level of units and increase their stats. They can be obtained through gacha.
Skill Enhancement
Edit
The "Unrestricted Insignia of Skill" (スキルの自在式, Sukiru no Jizai-shiki?) can be used to enhance the skills of units. They can be obtained through events.
Treasure Tools
Edit
see full article: Shakugan no Shana Fūzetsu Battle/List of Treasure Tools
In the game, numerous Treasure Tools can be obtained, and these include ones featured in the Shakugan no Shana story. The Treasure Tools have a rarity assigned from ★1-★4, where ★1-★3 are Treasure Tools original to the game and the most rare ★4 ones are usually Treasure Tools seen in the series. New Treasure Tools are usually added to the game during Event Quests.
Treasure Tools are equipped to character units in order to increase their HP, ATK, and DEF points. The amount of Treasure Tools a character can equip depends on the unit's rarity; a R can equip 1, an SR 2, and an SSR can equip 3 Treasure Tools.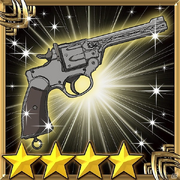 The player can use Power of Existence to level them up to a maximum of level 20. Then, if it has a rarity of ★2 or higher, "evolution materials" (進化素材, Shinka Sozai?) can be used to upgrade the Treasure Tool and increase the maximum level the Treasure Tool can reach. ★2's can be upgraded once, ★3's twice, and ★4's three times. The maximum level of a fully upgraded ★4 is level 80. If the same Treasure Tool is acquired again by the player, it automatically upgrades the one owned previously, increasing the amount of HP, ATK, and DEF points they add to the unit they are equipped to.
By winning in battle, the player receives "KizunaP" (キズナP?, Bond P). When the KizunaP is used, the bond between the player and their favorite character deepens. If the bond with a character is deepened, various skills can be learned by that character.
see full article: Shakugan no Shana Fūzetsu Battle/List of quests
Shakugan no Shana Fūzetsu Battle features various types of quests. Rewards earned after the completion of a quest are: EXP (experience points), "Penny" (ペニイ, Penii?), which is one of the currencies used in the game, Power of Existence, which is used to level up Treasure Tools, and KizunaP, which is used to engage in bonding with Shana, Wilhelmina, and Hecate. Various evolution materials and Treasure Tools can also drop randomly.
Normal Quests
Edit
Normal Quests are basic quests that follow the main storyline of the anime series.
Special Quests
Edit
Special Quests are quests which are mainly available during a certain day of the week. Other quests that have different contents to normal quests may also become available.
Event Quests
Edit
Event Quests are available for a limited time only. The contents of each event are different, but they are valuable because special Treasure Tools and other items can be acquired only in that event.
Limited Quests
Edit
Limited Quests are available for a limited time only. The contents of each event are different, but they are beneficial because of the high chance of larger than usual amounts of Penny and Power of Existence that can be acquired from them.
Collaborations
Edit
Mahouka Koukou no Rettousei School Magicus Battle
Edit
It was announced in late October 2015[13] that there would be a collaboration event between Shakugan no Shana Fūzetsu Battle and Mahouka Koukou no Rettousei School Magicus Battle in November. Mahouka Koukou no Rettousei School Magicus Battle is another mobile game published by Mobage, and like Shakugan no Shana, Mahouka Koukou no Rettousei is an anime adapted from a light novel published by Dengeki Bunko. The collaboration events were held from November 10 to November 19. The story of the events focuses on the protagonists of Mahouka Koukou no Rettousei, Tatsuya and Miyuki, being brought to Misaki City by Dantalion's machine, and the two cooperating with Shana and Yūji in order to defeat Dantalion and get the two siblings back to their own world. The event quests in Fūzetsu Battle were called "The Strategy of the "Professor": United Front With the Magicians", and in Mahouka Koukou no Rettousei School Magicus Battle they were called "United Front! The Flame-Haired Burning-Eyed Girl".
As part of the collaboration, three special units were released in Fūzetsu Battle: "Flame-Haired Burning-Eyed Magician" Shana, "Crossing Power" Yūji and Tatsuya, and "Freeze Flame Hunter" Miyuki Shiba. A Treasure Tool of Tatsuya's weapon Trident was also released.
In School Magicus Battle, Shana, Yūji Sakai, Margery Daw and Wilhelmina Carmel were added as playable characters. Special Magic Sequences were also added for those characters to use, as well as "Titles" (称号, Shōgō?), which are profile images for players.[14][15]
Type

Image

Name
Title
Shakugan no Shana Tatsuya and Miyuki ver (

灼眼のシャナ 達也&深雪ver

)
Title
"Flame-Haired Burning-Eyed Hunter" (

炎髪灼眼の討ち手

Enpatsu Shakugan no Uchite)
Title
Rivals of Love (

恋のライバル

Koi no Raibaru)
Title
The Flame That Drives Away the Darkness (

闇を討ち払う炎

Yami o Uchiharau Honō)
Title
Lover of Melonpan (

メロンパン大好き

Meronpan Daisuki)
Title
Imprisoned Princess (

囚われの姫君

Toraware no Himegimi)
Title
Christmas Eve (

クリスマス・イヴ

Kurisumasu Ivu)
Title
Chinese dresses and a Challenge! (

チャイナ服に挑戦!

Chaina-fuku ni Chōsen!)
Magic Sequence
MR rarity
Wings of Crimson (

紅蓮の双翼

Guren no Sōyoku)
Magic Sequence
SSR rarity
Tōga (

トーガ

Tōga)
Magic Sequence
SSR rarity
Persona (

ペルソナ

Perusona)
Magic Sequence
SR rarity
Nietono no Shana (

贄殿遮那

Nietono no Shana, Vairocana of the Offering Room)
References
Edit