Warning! Prepare to encounter spoilers in this thread.
This article contains plot details about a specific episode of the Shakugan no Shana series.
The anime version of Shakugan no Shana, directed by Takashi Watanabe, was aired in Japan between October 6, 2005 and March 23, 2006 containing twenty-four episodes. The anime was produced by the Japanese animation studio J.C.Staff. The series has been licensed for North American distribution by Geneon, and the first DVD of the series was released on September 5, 2006. Animax began broadcasting the English version in South and Southeast Asia on July 1, 2009. It was the second broadcaster for the anime in Southeast Asia and the first in South Asia.
In addition to the first season, two mini omake episodes depicting Shana super deformed were released on two separate limited edition DVDs that were bundled with the first and fifth Japanese region 2 DVDs that was on sale on January 25 and May 25, 2006. Both episodes were included in the sixth English region 1 DVD that was released on July 3, 2007. A similarly themed episode featuring Hecate was released on a DVD bundled with the "All About Shakugan no Shana" book. Later, an original video animation (OVA) was released on December 8, 2006. The events of the story takes place after the storyline of the first season's thirteenth episode.
A second season, under the title Shakugan no Shana Second, was officially announced on May 30, 2007, and aired in Japan between October 5, 2007 and March 28, 2008, containing twenty-four episodes. In the Philippines, TV5 was the first to telecast the second season in Southeast Asia between November 10 and December 25, 2008. An OVA series entitled Shakugan no Shana S began to be produced on October 23, 2009, and will be followed by a third television anime season of Shakugan no Shana.
Episode List
[
]
Shakugan no Shana (2005-2006)

[

]
This series contains all the episodes up to the 1st fight of Seireiden, and the summoning of Alastor. There are 24 episodes in the series. The opening theme of the series is Hishoku no Sora by Mami Kawada for episodes 1-16, and Being by KOTOKO for episodes 17-24. The ending themes are Yowake Umare Kuru Shoujo by Yoko Takahashi for episodes 1-14, Aka no Seijaku by Yoko Ishida for episodes 15-23, and Hishoku no Sora for the last episode. In this series, Shana seems almost cold to Yūji, and rejects any advances he tries to make. In the last episode, she confesses her love to him, only for him to be unable to hear it.
The first season was first aired on TV Kanagawa and aired on later dates on TVS, Chiba TV, MBS, TV Aichi, and Animax.
#
Title
Release Date
01
"The End of Everything, the Beginning of One Thing"
"Subete no Owari, Hitotsu no Hajimari" 
October 6, 2005
The story starts with Yūji Sakai having an ordinary life at school in Misaki City, but when he wanders around after school, he finds that time had frozen, and only he was moving. Two Rinnes appear and start to devour the lives of the frozen humans around him, then attempt to capture Yūji as well. Just when he was about to get eaten, a girl with red hair appears and destroys the monster. She returns everything to normal and tries to walk away, but when Yūji sees blue flames in the bodies of some of the humans and himself, he demands to know whats going on. The girl casually explains that the real Yūji Sakai is dead, and he is just a Torch—a replacement that will eventually disappear from existence. 
02
"The Lit Flame"
"Tomoru Honō" 
October 13, 2005
The girl explains to Yūji that she is a Flame Haze, someone who restores balance in the world, and that torches will eventually go out. She tells him that he is also a Mystes, someone who possesses a treasure (Hōgu) in his body, although she is unsure what the treasure is. Yūji seems to take everything too slowly, and she shows him a classmate of his–Yukari Hirai–who is also a torch and is about to burn out. Despite spending half the episode trying to save her, Hirai eventually burns out from existence. Yūji decides that the Flame Haze (who's known as the Flame-Haired, Blazing Eyes Hunter) needs a name and calls her Shana, after her sword Nietono no Shana. 
03
"The Torch and the Flame Haze"
"Tōchi to Fureimu Heizu" 
October 20, 2005
With Yukari Hirai already disappeared, Shana joins Yūji's class in her place by stealing Yukari's existence in order to keep an eye on him. The next day at school as Shana scares some of the teachers, the same Rinne from before attacks Shana once more. Friagne the Hunter shows up and leaves, Yūji shares his Power of Existence so Shana can repair the damages without sacrificing any of the classmates. Later, tonight Shana noticed Yūji's torch restored. 
04
"The Confused Flame Haze"
"Madoi no Fureimu Heizu" 
October 27, 2005
Shana unexpectedly starts living in Yūji's house for the time being. A gym teacher gives Yūji's class a hard time during a track-run until Shana kicks him out. Later, another Flame Haze named Margery Daw, the Interpreter of Condolence, comes to Misaki City and starts a battle with Shana. Later, Shana comes back to Yūji's house badly injured.  
05
"Respective Thoughts"
"Sorezore no Omoi" 
November 3, 2005
While on a date with Kazumi Yoshida at the art museum, Yūji meets Lamies, the Corpse Retriever, who has been eating many of the Torches in town whose flames are about to burnt out, and they have a friendly conversation. Meanwhile, Margery Daw has a run-in with Friagne the Hunter, Shana considers Yūji as she comes struggling with an emotion she does not understand. 
06
"Complication, Activation, Confrontation"
"Kousaku Hatsudō Taiketsu" 
November 10, 2005
Yūji follows Shana in her battle against Friagne and gets captured. Friagne decides to accelerate his plans and begin the City Devouring process sooner rather than later. Shana is knocked down, but Margery Daw comes at the last minute together they defeated him, and Yūji takes Friagne's anti-flame ring. As Yūji fades away (because his Power of Existence is so weak), the clock strikes midnight and his Power of Existence is restored. Alastor confirms the Treasure inside of Yūji is the Reiji Maigo (Midnight Lost Child), and it will restore his Power of Existence every day at midnight. Shana and Yūji finally get along. 
07
"The Two Flame Haze"
"Futari no Fureimu Heizu" 
November 17, 2005
Yūji has requested that Shana start to train him for future battles as he believes he may be of some help to her. Margery Daw gets assistance from Yūji's classmates, Keisaku Satō and Eita Tanaka, and is still on the trail of Lamies with the intention of ending his life by using Friagne's Haridan. 
08
"The Beautiful Goblet"
"Uruwashi no Goburetto" 
November 24, 2005
The battle between Margery Daw and Shana has finally begun while the fate of the entire city rests in the balance. Lamies tells Margery about her enemy, the Silver. After the battle, Lamies says goodbye to Yūji and Shana and leaves Misaki City, Margery stays with Satō and Tanaka for now. The next morning, Kazumi is concerned about the relationship between Yūji and Shana. 
09
"The Poolside of Love and Desire"
"Koi to Yokubō no Pūrusaido" 
December 1, 2005
Due to it being so hot outside, Hayato Ike hands out tickets to a newly opened Misaki water park and ultimately it is decided that Yūji and his friends go there after school. Once there, they participate in a contest; including Makate Ogata. Margery Daw unexpectedly shows up, though Shana cannot sense any intent to kill. Ike helps Kazumi get close to Yūji, though Shana begins to feel jealous. 
10
"Entangled Feelings"
"Karamaru Omoi" 
December 8, 2005
Yūji's training is not going so well, so Shana wants to up the level by creating a Fuzetsu one day after school. However, business with the student council does not allow him to do this, so Shana gets angry at him. Also, another Rinne (that been abandoned) appears. Yūji takes advice from his mother and comes to understanding Shana more. 
11
"Yūji, Shana, and Kisses"
"Yūji to Shana to Kisu" 
December 15, 2005
Shana's feelings towards Yūji are growing stronger and now Shana asks Yūji's mother, Chigusa, for advice about the meaning of a kiss. Ike tells Kazumi that Yūji and Shana are just friends but she unsure. Later, Alastor and Chigusa talks through a phone about Shana's social skills. Also, two more Denizens, Aizenji and Aizenta are on a search for the Nietono no Shana. 
12
"Flowers Bloom in the Cradle"
"Yurikago ni Hana wa Saite" 
December 22, 2005
After seeing Yūji and Shana together at the river one night, Kazumi's feelings for Yūji are hitting the breaking point until she finally confronts Shana about it. Yūji also asks Ike what he think of Kazumi. Suddenly, the two sibling Denizens, Aizenji and Aizenta, show themselves and Shana rushes into battle while Yūji tries to be useful. 
13
"Declaration of War Behind the School"
"Kōsha Ura no Sensenfukoku" 
January 5, 2006
Shana finds a way to somehow get out of the clutches of the two incestuous Denizens during their battle. A Crimson Lord, Sydonay, finds out about Yūji's treasure. Meanwhile, Yūji gets help from Margery Daw to defeat them as well on top of Misaki Bridge and takes their sword the Blutsauger. Shana gives Yūji melon bread as a prize. Later, Shana and Kazumi accept a challenge to win Yūji's heart. 
14
"A Great Person"
"Idai Naru Mono" 
January 12, 2006
Back before Shana became a Flame Haze, she was living in a large castle-like structure floating in the sky Tendo-kyu along with Alastor, training with the skeleton Shiro and a maid who cares for her. One day, a Denizen attacks the maid, whose name is Wilhelmina Carmel, who is also a Flame Haze. 
15
"The Day the Flame Was Born"
"Honō no Umareta Hi" 
January 19, 2006
With Tendo-kyu, the castle Alastor and Shana resided in, destroyed, the time has now come for Shana to finally become the Flame-Haired Burning-Eyed Hunter. However, she must first enlist the help of Tenmoku Ikko, a very powerful Mystes. 
16
"The Flame-Haired, Burning-Eyed Hunter"
"Empatsu Shakugan no Uchite" 
January 26, 2006
Now that she has become a Flame Haze, Shana must defeat Tenmoku Ikko and take his sword, Nietono no Shana. After seeing the fallen kingdom reside with Shiro, Wilhelmina and Shana part ways and leave on their journey as Flame Haze. The story shifts back to the present, where Yūji asks Shana why she likes melon bread, but she does not tell him. 
17
"A New Chapter"
"Aratanaru Joshō" 
February 2, 2006
The Misago Festival is coming soon and Kazumi has made up her mind to confess her feelings to Yūji there. However, she meets a new Flame Haze; Khamsin Nbh'w who tells her the truth about the world. Margery warns Shana and Yūji about the Bal Masque; head of the Crimson Denizens are making a move in Misaki City. 
18
"A Shattering Wish"
"Kudakeru Negai" 
February 9, 2006
When Yūji does not come home after school on the day of the festival, his mother and Shana go to the festival to look for him but before long another Denizen shows itself. Khamsin set up tunes around the city as he waits for Kazumi cooperation. Also, Kazumi discovers the truth that Yūji is indeed a Torch. Shana gets upset seeing the situation between Yūji and Kazumi. 
19
"Inside the Battle"
"Tatakai no Naka de" 
February 16, 2006
Shana reveals her Flame Haze identity to Kazumi, and Yūji finds out about Satō and Tanaka associating with Margery. The Seeking Research Denizen Dantalion has already started his plan to open up a gate to another dimension above the festival and now all three Flame Haze, Humans; Satō, Tanaka (after Ogata confesses her love to him), Kazumi, and Yūji must work together to defeat him. Khamsin gives Kazumi a treasure before he leaves. 
20
"Heartless Wilhelmina"
"Hijō no Viruherumina" 
February 23, 2006
Wilhelmina arrives in Misaki City and meets up with Shana again. Yūji and Kazumi walk together in a sunny day. Wilhelmina wonders about Shana's behavior when talking with Chigusa. Meanwhile, Margery Daw finally leaves Misaki City without saying goodbye to either Eita or Keisaku. Also, Wilhelmina comes to the conclusion that Yūji must be destroyed in order to hide the Reiji Maigo and protect the balance of the world. 
21
"Diverging Feelings"
"Tōzakaru Omoi" 
March 2, 2006
Shana is able to persuade Wilhelmina, at least for now, to not destroy Yūji, who has finally decided to leave Misaki City in order to protect it. Kazumi, Satō, and Tanaka tells Yūji they want to help. Later at the bonfire which burned much of the decorations from the festival, a spell is activated. Wilhelmina attempt to kill Yūji again but Shana stands in the way of her attack. And Yūji gets captured by the Bal Masque. 
22
"The Flickering Flame"
"Yuragu Honō" 
March 9, 2006
After getting heavily injured, Shana must recover in the care of Wilhelmina. Alastor explains to Wilhelmina that Shana been feeling irritated since she met Yūji. Meanwhile at Seireiden, Master Throne, Hecate begins to synchronize with the Reiji Maigo residing within Yūji. Yūji's memories and feelings flow into Hecate. A fountain of existence pours over the city. Kazumi, Eita, and Keisaku bring over the sword Blutsauger to Shana and tells her to bring Yūji back, not as a Flame Haze but as Yukari Hirai. 
23
"Battle at the Seireiden"
"Seireiden no Tatakai" 
March 16, 2006
While fighting within the Seireiden, a spell is cast which drains their power of existence for a time, however, Margery Daw comes back and destroys the spell. Shana and Wilhelmina fight against Sydonay, and Crimson Lord Bel Peol. Ultimately, it is now up to Shana to decide the fate of Yūji. 
24
"Crimson Thoughts"
"Guren no Omoi" 
March 23, 2006
After managing to defeat Hecate, the city is about to be destroyed regardless. However, there is one final plan that is to summon Alastor (Tenpa Jousai), though Shana's life may be on the line if it succeeds. Shana then confesses her love to Yūji, thinking that she will die. In the end, they both survive and return to Misaki City. 
13.5
OVA
"Shakugan no Shana Special: Love and Outdoor Hot Spring Tutorial!"
"Shakugan no Shana Tokubetsu Hen Koi to Onsen no Kōgai Gakushū!" 
December 8, 2006
Yūji's school goes on a field trip to a hot spring where Makate Ogata tries to do something about her feelings towards Eita Tanaka. Towards the middle of the field trip Ogata starts to get the idea that Satō and Tanaka are lovers after hearing about a charm when climbing a stairs at a shrine. Shana and Kazumi fights over Yūji. Then later everyone goes home with a complicated relationship. 
Shakugan no Shana Second (2007-2008)

[

]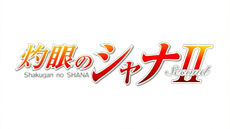 This series covers from where the first series left off, to the battle of the clock tower (fight against The Silver). In this series, Shana constantly tries to confess her love to Yūji, but constantly fails due to the intervention of Tomogara. In the last episode, she finally succeeds in confessing to him, and Yūji chooses her in preference to Yoshida. The opening theme of the series is JOINT by Mami Kawada for episodes 01-15 and BLAZE by KOTOKO for episodes 16-24. The ending themes are triangle by Mami Kawada for episodes 01-15, Sociometry for episodes 16-23 and sense by Mami Kawada for episode 24.
The second season was first aired on MBS, and aired on later dates on CBC, TBS, Bandai Channel, and Animax.
#
Title
Release Date
01
"The Second Time"
"Futatabi no Koku" 
October 5, 2007
Yūji has been put to sleep by a Denizen as he encounters events from the past in a dream. When he realize he was only dreaming, the spell was broken. He awoke to see Shana destroying the Denizen, Mare, calling it "weak". However, it was not the true form. 
02
"The Beginning of Everything"
"Subete no Joshō" 
October 12, 2007
Shana learns how to make home-made melon bread for Yūji, while he does his training with Wilhelmina. They discover Yūji's Power of Existence is greater than before, because of Hecate. At school, Yūji is placed in a dream again by Mare, along with Shana and Kazumi, in another plot to steal the Reiji Maigo. But he is saved thanks to a Keeper unknowingly place on it. 
03
"The Suspicious Transfer Student"
"Giwaku no Tenkōsei" 
October 19, 2007
A student that looks very much like Hecate has transferred into Yūji's class, Fumina Konoe. By using a Fuzetsu, Shana wants to make sure if she is Hecate or not. Also, another Denizen appears to Shana and Konoe. 
04
"The Anxious Girls"
"Urei no Shōjotachi" 
October 26, 2007
Yūji and Ogata helps Konoe get used to life at school. The classmates, including Konoe go to a newly opened restaurant. Shana and Kazumi grow jealous of Konoe's attachment to Yūji. Both experience unusual behaviors. 
05
"The Family's Dinner Table"
"Kazoku no Shokutaku" 
November 2, 2007
Shana and Kazumi continue brooding over Konoe and Yūji's growing relationship; Wilhelmina starts taking parenting advice from Chigusa and tried to cook a home-made meal for Shana. Ike lets Yūji know to be considerate of those around him. 
06
"Eve of Trouble"
"Shiren no Zenya" 
November 9, 2007
School resumes and the class teacher springs a surprise test on the class. Ogata suggests everyone stay at Satō's place for an overnight study session and reluctantly Shana comes as well. Margery Daw ends up giving insightful advice to Ogata and Kazumi on their relationships with those of which they love. They and Shana finally gain their confidence back. 
07
"Hayato Ike, a Day of Glory"
"Ike Hayato, Eikō no Hi" 
November 16, 2007
Ike suggested to visit the amusement park as a welcome for Konoe, but the carefully planned outing turns out all wrong when he miscalculated certain events. His underlying plan of impressing Kazumi was believed to be ruined initially, but he resorted to asking Kazumi to ride the Ferris wheel with him, which he was confident he would not get sick in. But mid way through the ride, he got sick. The ending dedicates Konoe thanking Ike for the outing. With Kazumi giving a smile to Ike, he ends off his unlucky day. 
08
"The Door to the Past"
"Kako e no Tobira" 
November 23, 2007
Starting off with Yūji being trained by Shana and Wilhelmina. Yūji managed to somehow defeat a Rinne that Wilhelmina summoned. In the background, Satō, one of Margery Daw's guides was silently observing, after which Satō returns and tried to plead with Margery Daw to be requested to be trained. However Margery Daw declines and subsequently tells Satō and Tanaka about her past. In her past, there appears a boy as a flame haze and the story subsequently plot around the boy and Margery Daw. The Boy is revealed to be named Yurī Chvojka. 
09
"The Milestone of Sorrow"
"Kanashimi no Mairusutōn" 
November 30, 2007
Yūji is training with Shana in order to learn how to cast a Fuzetsu. The story shifts back to Margery's past, where she approaches to take down the two Tomogara, one of which called Anabel lures her into a trap where Sydonay manages to inflict a fatal wound on her. Just as they are about to kill Margery, Yurī comes to attack, managing to save Margery. However, Yurī becomes fatally wounded and dies in battle, ending it in a draw. The story shifts back to Yūji's training where he succeeds in casting a Fuzetsu, however, the flame of the Fuzetsu is silver. Shana and Alastor are surprised when they see the flame. Coincidentally, Margery's long hated enemy also had a silver flame. 
10
"The Man who Returned"
"Kaettekita Otoko" 
December 7, 2007
Yūji is perplexed about his silver flame. A mysterious man appears near Yūji's home, and is spotted by Shana when he is following her and Kazumi. Shana instead plans to ambush the suspicious man, and afterwards attempts to kick him. He manages to dodge the attack and is revealed to be Yūji's dad, Kantarō. Chigusa and Kantarō give advice to Shana and Kazumi about their affection towards Yūji. 
11
"The Promised Pair"
"Yakusoku no Futari" 
December 14, 2007
The culture festival is approaching, and everyone in school is putting finishing touches in preparation for it. Shana's friendship with Kazumi becomes closer. Wilhelmina returns with the research on the Reiji Maigo's Keeper and she meets up with Shana and Yūji to explain its origins. It is revealed to be a treasure created by Crimson Lord Pheles to ensure that her lover Johann—a Mystes like Yūji would not die and stay with her forever. However, the pair was defeated somehow and the Reiji Maigo was lost, later being teleported inside Yūji. After hearing that they also tell her about the Silver. Wilhelmina warns Yūji and Shana to be on their guard against the possible return of Pheles to retrieve the Reiji Maigo. 
12
"The Clear Autumn Festival Begins"
"Seishū Sai Hajimaru" 
December 21, 2007
Shana and the others enter the culture festival. Wilhelmina decides to delay telling Margery about Yūji's silver. Wilhelmina drags her to the festival to see Shana and the others. Margery eventually agrees to wait for the following night for Wilhelmina to tell her the entire truth of silver. Ike is exhausted throughout the whole event. Meanwhile Yūji, Shana and Kazumi ended up qualifying for the Grand Prix. In the end, Shana ended up winning the best costume award. She plans to confess her love to Yūji on stage and just as she was about to do so, Yūji's hands touched another girl's hand. The girl was mentioned earlier in the episode to be Alice, and just as Yūji's hand touched her, a tornado appeared. Pheles had made her appearance in front of Yūji, much to the surprise of the Shana and the other Flame Haze. 
13
"Convergence, Then a Sign"
"Shūsoku, Soshite Kizashi" 
January 11, 2008
A Fuzetsu was uncontrollably set up by Yūji, causing Margery to go berserk upon seeing the color of the flame. Wilhelmina attempts to control the Interpreter of Condolence while Shana prevents Pheles from taking the Reiji Maigo out of Yūji. Margery attempts to attack the source of the silver flame in her blind rage, but Yūji was protected by his anti-flame ring and Pheles, who was weakening significantly, with Shana and Wilhelmina working together to restrain both. After Satō and Tanaka plead with Margery to listen to an explanation, Margery realizes her folly and calms down, but only to question Yūji about what he is. Pheles then explains that Johan is inside the Reiji Maigo and it is not what it was meant to be, and requests The Interpreter of Condolence to check it. Margery then restores everything back to normal with the help of Wilhelmina's ribbons and Yūji's Power of Existence. 
14
"Eternal Lover"
"Eien no Koibito" 
January 18, 2008
As Pheles weakens, she reveals the secret of the Reiji Maigo, but even she says she does not know what is wrong with the Hōgu. Although Pheles is not trusted by the others, Yoshida invites her to attend the festival and Yūji agrees helping Pheles to survive by giving her some of his Power of Existence. At the end of the festival, Pheles true self awakes and she tries to get her beloved Johan back. When Pheles comes close to Yūji, a silver arm comes out of his Hōgu, piercing Pheles. 
15
"Awakening"
"Kakusei" 
January 25, 2008
The Silver awakens within Yūji due to Pheles's second attempt to free Johan. Hecate's secret is finally revealed and seals the Silver inside Yūji's Hōgu. She absorbs Fumina Konoe, joins together with Fecor in the fight. When Yūji gets caught in the shockwaves of the battle, Johan is freed and Pheles once again gets to see Johan, Shana gets worried. In the end, Johan turns back to Yūji, Shana hugs him, and Pheles claims she will not go after the Reiji Maigo because Johann instructed her not to. 
16
"Ceaseless Feelings"
"Tsukisenu Omoi" 
February 1, 2008
The festival ends without any more disruptions, and it seems that everybody forgot about Konoe. Before Pheles left, she gives Yoshida a secret Hōgu. She wants Yoshida to use this cross shaped Hōgu when something strange is happening to Yūji. It will summon Pheles, but to do so, the human who uses it will disappear due to the limited power of existence. Yūji requests to get the sword Blutsauger (that was used by Aizenji) as a weapon for him to fight with. 
17
"Respective Paths"
"Sorezore no Michi" 
February 8, 2008
Tanaka still suffers because of Margery's attack where she nearly killed Ogata. Yūji is slowly improving in fighting with a sword by training with Shana. Meanwhile, Satō and Tanaka meet in front of a convenience store to talk. Tanaka decides to live a normal life with Ogata and leave Satō and Margery.  
18
"The Intricate Yūji"
"Sakusō no Yūji" 
February 15, 2008
Yūji continues his training; to use his silver flame as if he was possessed by something. Shana and Kazumi is concerned about Yūji's sudden change when Chigusa suddenly gets ill. Also a Tomogara called Zarovee appears in Misaki City. 
19
"Matters That Could Not Be Said"
"Ienakatta Koto" 
February 22, 2008
Yūji is confused by Shana and Kazumi's words. While thinking about their words, he is ambushed by a cloning Tomogara who has a secret plan Yūji must uncover. Yūji eventually uncovers the plan, and with the help of Tanaka, is able to inform the Flame Haze. He casts his silver Fuzetsu and dispatches all of the cloned Tomogara, while Shana and Wilhelmina defeat the hidden Wanderer Tomogara. Just as they kill the Tomogara, a new flame appears in the recesses of the ruins induced in the fight. 
20
"Madder Red Struggle to the Death"
"Akaneiro no Shitō" 
February 29, 2008
The Destructive Blade, Sabrac appears from the explosion that engulf Yūji and everyone else. The overwhelming roar of ruby flames covers Misaki city. Even with heavy wounds, Wilhelmina still faces her nemesis Sabrac; the enemy that she used to fight along with Pheles and Johan. 
21
"Combined Strength"
"Awaseru Chikara" 
March 7, 2008
Wilhelmina struggles against Sabrac who appears to be invincible. Yūji gathers Shana, Margery, Kazumi and Keisaku, and devises a plan to defeat Sabrac. They are successful in severing his energy reserves while Wilhelmina distracts him, and without Power of Existence to draw on, Sabrac loses two more swords and finally falls to Nietono no Shana. 
22
"Christmas Eve"
"Kurisumasu•Ivu" 
March 14, 2008
Shana is curious about babies, after Yūji heard from his dad that his mother is pregnant. Shana and Kazumi decide to write letters to Yūji, professing their feelings toward him through written words on letters and waits for him on Christmas Eve at the clock tower. Hecate suddenly appears and removes the Reiji Maigo from Yūji despite the Keeper. Ike also confesses his love for Kazumi. 
23
"Quickening Peril"
"Kinan no Taidō" 
March 21, 2008
Yūji's Reiji Maigo had been taken out by Hecate, who suddenly appeared alone unexpectedly, and is transferred to the Tomogara with the Silver Flame. Bal Masqué's secret weapon, Taimei Shihen, finally starts to move, with the Tomogara with the Silver Flame at its heart. Johan tells Kazumi that the Reiji Maigo has been taken from Yūji. Meanwhile, Shana, Margery and Wilhelmina manage to get into the blue sphere to save Yūji. While they get there Margery is severely injured by Sydonay. 
24
"That Which Must Be Protected"
"Mamoru beki Mono" 
March 27, 2008
The Statue of Pride is about to be born. When Yūji picks his sword up, he screams the name of the one he desires to protect, Shana. After a fierce battle with the members of Bal Masqué, Shana is eventually able to break through and enter the Statue of Pride. She meets up with Yūji, and they run to fight the Tomogara at the heart of the Statue of Pride. Shana and Yūji fight together and eventually manage to beat the Tomogara when it hesitate with Konoe's feelings within it, and Yūji regains the Reiji Maigo. With the heart destroyed, the Statue of Pride collapses, and Bal Masqué retreats. 
Shakugan no Shana S (2009-2010)

[

]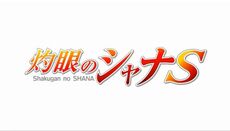 Shakugan no Shana S is an OVA series depicting scenes from within the novel and related material from Shakugan no Shana. It is composed of four episodes with individual plots released about 3-4 months between each episode. The opening theme of the series is Prophecy and the ending theme is All in Good Time, both performed by Mami Kawada. Reshuffle is derived from the art book Guren, whereas Domicile is based on a story from Volume SII and Overture from Volume 0 of the light novel series.
#
Title
Release Date
1
"Reshuffle"

"Rishaffuru" (リシャッフル)

October 23, 2009
While Yūji and Shana rummage through Friagne's old pile of Treasure Tools during a hot summer's day, Yūji finds and uses a telescope-like object, causing him and Shana to switch bodies. Alastor tells the two that the object Yūji has just used is called the Reshuffle. While reversing its effect is just as easy as activating it, the Reshuffle gets lost in junk and the two have to gather the pile and find a better, more isolated spot to search for the Reshuffle.
2
"Domicile"

"Domisairu" (ドミサイル)

February 26, 2010
Recently, Shana has been acting strangely. Worried over her well-being, Yūji and Wilhelmina decide to follow her from the shadows after school one day. But later they found out that they want to surprise Wilhelmina.
3
"Overture (Part I)"

"Ōbāchua Zenpen" (オーバーチュア 前編)

June 25, 2010
In her early days as a Flame Haze, Shana takes over the identity of a Torch named Junko Ōgami and starts to hunt down the Denizen who killed her. She gets to know who Junko was through the latter's parents.
4
"Overture (Part II)"

"Ōbāchua Kouhen" (オーバーチュア 後編)

September 29, 2010
Rummaging through Junko's memories, Shana finds out that Junko has a relationship with a boy named Yukio which caused a spat between her and her mother. She eventually finds and kills the Denizen, which is about to victimize the boy.
Shakugan no Shana Final (2011-2012)

[

]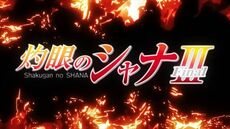 This series covers from where the second series left off. Shana and Kazumi both wait for Yūji, but he has disappeared. Everyone searches for him but he reappears, as the leader of Bal Masqué. Shana now has to fight Yūji in her most difficult battle ever. The opening theme of the series is Light My Fire by KOTOKO for episodes 01-12 and Serment by Mami Kawada for episodes 14 and 16-22. The ending themes are I'll Believe for episodes 01-13 and One for episodes 14 and 16-23 , both by ALTIMA.
The third season was first aired on Tokyo MX, and on later dates on Chiba TV, TV Kanagawa, MBS, CBC, AT-X, and BS11.
#
Title
Release Date
01
"Lost Existence"

"Ushinawareta Sonzai" (失われた存在)

October 8, 2011
Yūji Sakai's existence has disappeared on Christmas Eve after the events of Statue of Pride. Like a disappearance of a Torch, all those who are not engaged in the World of Crimson have forgotten him including his closest friends and families. Shana continues training at Chigusa's house. Kazumi and Hayato Ike stare at each other after hearing his confession. Shana and Kazumi still believe that Yūji exists due to the fact that their letters given to Yūji have not disappeared. However, it is shown that Yūji still exists but makes a contract with a Crimson Denizen and takes the Palace of the Stars' throne as the new leader of Bal Masque.
02
"What Must Come"

"Kitaru beki Mono" (来るべきもの)

October 15, 2011
Shana receives a response letter from Sophie Sawallisch about her report. Her words have made Shana felt uneasy and questions herself. She was able to figure it out during her training. Meanwhile, Yūji officially arises as the new commander of Bal Masque, as Bel Peol announces their ambitions to all Guze no Tomogara that are present in Seireiden. Keisaku Satō receives a spell from Margery that allows him to sense a nearby Tomogara as he heads off to Outlaw's Tokyo Headquarters. On the train, he senses one but it appears to be in a train in the opposite direction. The other train arrives in Misaki City with Yūji getting off it.
03
"To Start the Journey"

"Tabidatsu Tame Ni" (旅立つために)

October 22, 2011
Yūji returns to Misaki City. Satō, who found that a Denizen is at the city, warns Tanaka. He decides to get to the Haridan where he meets Yoshida, who also decided to go there after being warned by Shana. Yūji walks around the city, while reminiscing about all events that he took part since he found out he was not human anymore. He climbs the top of Misaki Bridge where he and Shana finally meet again.
04
"Reunions and Encounters"

"Saikai to, Kaikou to" (再会と、邂逅と)

October 29, 2011
Yūji and Shana finally meet. Yūji reveals that he is indeed himself but also the Crimson God Snake of the Festival. Margery and Wilhelmina come to see what is happening. Yūji says he has come to save Shana from her inevitable fate as a Flame Haze—to fight against Denizens until she burns out. Shana does not believe him and the three Flame Haze fight with Yūji as he casts a black Fuzetsu. He traps Wilhelmina and Margery in a ball of silver. Yūji explains to Margery that the Silver was a projection of her emotions. He is a mirror of her hate towards everyone who abused her and has done the things Margery secretly wanted to do to them on her behalf. She has a mental breakdown and starts hysterically crying. Meanwhile, Yūji is chasing Shana and they fight. In the end, he captures her and goes to the Haridan with Shana unconscious in his arms. He takes the Haridan and claims it is his property. Yūji reveals to Yoshida, after she asks him, that he returned her letter back to let her know he chose Shana. She then falls on her knees in shock. Yūji flies to the Seireiden with Shana in his arms.
05
"Captured Flame Haze"

"Toraware no Fureimu-heizu" (囚われのフレイムヘイズ)

November 5, 2011
Shana is kept captive. Later on, she learns that Alastor has joined Yūji. Meanwhile, in our world, Margery is in a coma and Eita cannot wake her up, unless Keisaku comes back. Outlaw does not give any information or help to neither Eita about Keisaku or Wilhelmina about Shana. Shana seems to be erased from everyone's memories and Wilhelmina refuses to help the Outlaw in the war until she finds Shana and that's why they will not help her either. Shana afraid to face Yūji when he tried to touch her. Meanwhile, Lamies meets Shana again and the other three masters of Bal Masque seem to have a secret plan.
06
"In the Palm of Their Hands"

"Тenohira no Naka ni" (掌のなかに)

November 12, 2011
Keisaku is held hostage by an Outlaw - Widened Eye of Incineration, Emest Flieder, who believes that this way he'll make Wilhelmina join them in battle. His partner, the Scatterer of Sparkling Light, Rebecca Reed, frees Keisaku and sends him back to Margery Daw with Wilhelmina's reports. Rebecca flies to Wilhelmina, who has been her ally for a long time, and Sophie Sawallisch makes Emest the commander of the Tokyo Outlaw Headquarters. Meanwhile, at the Seireiden, Shana wonders why she could not do anything against Yūji and why she was so scared when he tried to touch her. She remembers when her trainer, Shiro, told her that one day she will find the greatest power that can bring down anyone and anything and then he asks to her to hold his hand. Shana then remembers how every enemy she fought, held hands with someone and she recognizes the greatest power of love that lies on the palm of Yūji's hand and understood what Shiro meant back then. Suddenly, there's a loud noise and when Shana goes out, she sees dead bodies and above them - the Master Throne, Hecate. She responds that Shana is no longer needed.
07
"The Divine Gate"

"Shin Mon" (神門)

November 19, 2011
Hecate feels that Shana is a threat to them and should be killed and proceeds to attack her, but Yūji comes and saves her. Meanwhile, Kazumi meets Khamsin and asks him about the meaning behind the Treasure that Pheles gave her, since her feelings towards Yūji are changed after he rejected her. Back at the Seireiden, Yūji opens the Divine Gate, through which he intends to go and bring back the Snake of the Festival's true body and change the world. He then takes Shana and the Trinity with him to announce his plans to all Denizens as they prepare for the war. Then he, along with Bel Peol, Sydonay and Hecate, go through the gate.
08
"Beginning of the War"

"Kaisen" (開戦)

November 26, 2011
As the war begins all over the world, Yūji, the Trinity and other Denizens are on the path to Snake of Festival's self. All Flame Haze prepare themselves for the war, Carmel goes into the sea to the fallen kingdom of Heavenly palace and requests the help of Shiro. Khamsin and Rebecca infiltrate the Seireiden and start attacking and destroying everything. Meanwhile, Shana is alone and with no powers, when she notices what's going on and then she takes the decorated swords in her room in preparation to fight.
09
"To Seireiden"

"Seireiden Dono e" (星黎殿へ)

December 3, 2011
As the war continues, Shana fights her way to Nietono no Shana. Tenmoku Ikko reappears, slaying one Denizen after another as he tries to find his master Shana, and attacks Tempest Hoof Fecor. He found Shana breaks her free from the chain that sealed her powers and is finally ready to battle.
10
"Crossing"

"Kōsaten" (交差点)

December 10, 2011
Sophie Sawallisch comes to assist with a large army of armed humans. Shana is freed and after a battle against a Denizen named Vual, which ends up with Shana furiously killing it, she comes to self-awareness as the ultimate combination of the Flame-Haired Burning-Eyed Hunter - the Flame Haze, and Shana - the human she became after meeting Yūji.
11
"Feelings Heard"

"Kikoeru Omoi" (聞こえる、想い)

December 17, 2011
Keisaku comes back and awakens Margery and they confess their love to each other at last. She makes him as powerful as herself fearing that he would not survive being intimate with her. Meanwhile, at the Seireiden, Shana, Wilhelmina, Khamsin and Rebecca enter the Divine Gate to fight the Trinity and the Snake of the Festival. Outside the Gate, in a blizzard, the war is getting extremely intensive—more and more Tomogara armies are coming but they are losing against the Flame Haze. Decarabia comes to the surface and starts a powerful attack but Sophie Sawallisch finds him and kills him, using a large amount of her powers. After a moment of comfort that the most powerful enemy has been destroyed, the snow from the blizzard turns into Tomogaras, and the commander of the Western army Haborym arrives earlier than Sawallisch expected. Meanwhile in the Divine Gate, Sabrac stands to delay Shana's progress.
12
"The Words of an Oath"

"Chikai no Kotoba" (誓いの言葉)

December 24, 2011
Wilhelmina, Rebecca, and Khamsin begin a long and hard fight against Sabrac, which seems to be impossible to win. Shana leaves them and meets Snake of the Festival, who has awakened his true form, and promises him to fight him, make him the person he used to be and to live in a perfect world along with him. She has realized that the two personalities of her were not the Flame Haze and the person, but the one who would and the one who would not fight for the dream of a perfect life. However, both have one thing that assures the chance for this dream to be realized—the most powerful unrestricted spell, love. Shana says she will use the Tenpa Jousai to kill the God of Creation and the Bal Masque if she has to in order to defeat them.
13
"From Rift to Rift"

"Hazama e to Hazama Kara" (狭間へと、狭間から)

January 7, 2012
Inside of the Divine Gate, Sabrac falls, gazing at the greatness of the Snake of the Festival in his true form. The God of Creation then sends out a signal and starts moving towards the Divine Gate. After the signal is felt by everyone, Sophie Sawallisch attempts to destroy the Gate. At the last moment, Fecor protects it and dies from the power of the spell. Back in the Gate, Shana and Yūji are fighting. Because of a memory that vows between two people are sealed with a kiss on the lips, Shana tries to kiss Yūji on the cheek and says that is her vow. She is then taken away abruptly by the ghosts of the Flame Haze before she can make the kiss and is brought outside of the Gate as it breaks and the Snake of the Festival comes out. All Tomogara cheer and all Flame Haze stand in astonishment and despair and amongst this, Shana recognizes this as a sound not of a fall, but of the start of a new battle.
14
"Declaration of the Grand Order"

"Taimei Senpu" (大命宣布)

January 14, 2012
The Flame Haze army retreats as the Snake of the Festival destroys their morale. He announces his plan to create a new world, a complete copy of ours, to be a paradise for Tomogara and with Power of Existence flowing everywhere. Thus, all Tomogara would leave the world and the Flame Haze would stop fighting against them. After that, panic and chaos reigns among the Flame Haze, who now do not have a purpose and the Tomogara attack them.
15
"Rout in the Rain"

"Uchū no Haisō" (雨中の敗走)

January 21, 2012
The Flame Haze army retreats to the Palace of Light with the help of the Gods of Earth and Margery Daw. Samuel sets up a decoy stalling the Denizens' advance and discovery of the Palace of Light. Flame Haze: Chiara Toscana and Seere Habichtsburg, carries Shana and the gang as they fly away.
16
"To Battle, Once More"

"Futatabi Tatakai e" (再び、戦いへ)

January 29, 2012
The few surviving Flame Haze: Shana, Margery, Khamsin, Wilhelmina, Rebecca, Chiara, Seere, and Sophie arrives at an airport to decide whether to continue the fight or not. Yūji Sakai said that the Seirei-Den will head to Northwest, towards Misaki City where he will start the creation of Xanadu.
17
"For Whose Sake?"

"Tagatameni" (誰が為に)

February 4, 2012
Shana makes it to New York, and meets up with the rest of the Gods of Earth. They agree to help Shana fight, and she then explains the plan to them. Yūji visited Misaki City and found Kazumi Yoshida and Eita Tanaka with Ike and Ogata leaving when Kantarō comes home. Yūji came back to convince Yoshida to join him in building the new universe. While Yoshida, Tanaka, and Yūji walk around town, Yūji explains what he intends to do. After a while of explaining, Yoshida finally agrees to help him.
18
"Maelstrom of Warfare"

"Tōsō no Uzu" (闘争の渦)

February 11, 2012
Yoshida witnesses the commencement of the ceremony to form Xanadu. Lamies starts to operate the plan with Yoshida. Hecate's purpose is revealed as she is sacrificed to the Snake of the Festival. The three remaining Gods of the Earth move in to attack the army of Guze no Tomogama that have arrived in Misaki City. This gives Shana and her companions an opportunity to reach the Seireiden. Shana and Yūji lock in their own confrontation as an array of battles surround them.
19
"What the Wind Calls"

"Kaze ga Yobu Mono" (彩飄が呼ぶもの)

February 18, 2012
While Shana and Yūji battle each other their own allies confront their enemies. Yoshida witnesses the carnage around her and finally accepts to use the Giralda to summon Pheles and sacrifice herself; but instead she survived. The three gods fight alongside Shana whilst the mad scientist Dantalion prepares to finish ceremony for the creation of Xanadu. Johan awakens and have a brief conversation with Yūji, and in the end Pheles is finally reunited with Johan.
20
"The World Egg"

"Sekai no Tamago" (世界の卵)

February 25, 2012
With Johan freed from the Reiji Maigo, Shana and her allies continue their fight against Yūji and the Guze no Tomogara. The Flame Haze Earnest attempts to contact The Oracle through Rofocale who informs him that to summon the Oracle is impossible; at least until he has a vision which startles him. On the other hand, Shana's attacks brings out Yūji's very own unrestricted spell through Sairei no Hebi. To the leader of Bal Masque's fear however, she manages to fire multiple Taimei Shihen into the egg of the New World, possibly damaging it.
21
"One Reason"

"Hitotsu no Ri" (一つの理)

March 3, 2012
Shana announces her own plans for the paradise Xanadu, which was to create a law where the Denziens are not allowed to eat humans anymore. Johan talk with Yoshida knowing that his life was coming to an end. Because of this, he formed a plan and also has a message for Wilhelmina from him and Pheles. The van that Yoshida is in, being taken over and controlled, then being fired at and later exploding right in front of Shana and Yūji's very own eyes.
22
"Dream of the Stranger"

"Ihōjin no Yume" (異邦人の夢)

March 10, 2012
Yoshida and the van create illusions to conceal their presence. Khamsin risk his life to protect Yoshida, Wilhelmina comes to assist them while Yoshida carries a glowing object given to her by Johan and Pheles. They hide within the tower as they disabled the controls. While avoiding the missiles, Seere grab and threw an explosive robot at the control room leading Dantalion to his death. Chiara defeats Crimson Lord Mammon when he was distracted by the destruction of the control room. Shana and Margery reveals their secret plan to Yūji.
23
"The God's Dream"

"Kami no Yume" (神の夢)

March 17, 2012
Xanadu has been created, albeit with some slight changes. Midnight comes, and the Reiji Maigo activates, replenishing the God of Creation's powers. Yūji has the chance to undo Shana's changes to his new world, but decides to let it stand, as the Denizens are willing to give up eating humans if they no longer need to. The God of Creation announces his new world for the Guze no Tomogara and allow them to live there in peace. He parts with Yūji and they go their separate ways, when the God of Creation makes note of his respect towards Yūji. The God of Creation says that the flame haze should rejoice now that the war is over. All remaining members of Bal Masqué leave for Xanadu except for Sydonay who stays behind willing to aid Yūji in his final confront against Shana, while Khamsin's friends gather around him to pay their respects to him before he dies. Kazumi promised to never forget him.
24
"The End in the Distance"

"Hate yori Hiraku" (涯てより開く)

March 24, 2012
Pheles and Johan's child, Justus, is entrusted to Wilhelmina, while a large group of Flame Haze is assembled at the Heavenly palace to depart to Xanadu with them. Lamies also sets for the Denizens' new world leaving to Yūji some Power of Existance he assembled and a restriced spell "Grammatica", whose properties he lets Yūji find out for himself. Only Shana, Yūji, Sydonay, Margery and Kazumi stay behind when the spell on Misaki City is lifted and the city starts moving again. Yūji reveals to the others that there is no duplicate of Misaki City in Xanadu, as he was unable to recreate it due to the role the city played in Xanadu's creation. Yūji asks Shana for Yukari Hirai's torch so he can restore her to existence. Shana refuses to agree with Yūji's intentions to leave her behind in atonishment and starts fighting him, while Margery goes full force against Sydonay. In the end, Yūji accepts Shana's feelings and Sydonay is killed, fulfilling his wish to rejoin Hecate in spirit. When Yūji and Shana kiss, the spell left by Lamies activates and Yūji becomes a real existence, no longer a Torch. Life returns to normal at Misaki City, including Yukari Hirai being restored, and Kantarō and Chigusa's child is born. Yūji and Shana depart for Xanadu together.
Others
[
]
[

]