This page is about the side story. You may be looking for the Treasure Tool or the OVA episode.
Reshuffle (リシャッフル, Rishaffuru?) is a side story exclusively published in the artbook GU-RE-N on February 25, 2005. The first episode of the OVA series Shakugan no Shana S was adapted from this story. Chronologically, it takes place after volume IX and before the prologue and epilogue of volume X and the Shakugan no Shana DS game.
While looking for Treasure Tools in Friagne's old hideout, Yūji and Shana seemingly swap bodies due to the Treasure Tool Reshuffle. They must now go back to Yūji's house and return to normal without their friends or the other Flame Haze catching on to their situation, all the while feeling a foreboding from Alastor's warnings.
In a hot day of summer vacation, Shana and Yūji were searching for Treasure Tools in Friagne's old hideout, a closed floor of the abandoned Yoda Department Store building, which was filled with mountains of toys. While Shana was diligent, Yūji was bothered by the heat. They had met Keisaku Satō and Eita Tanaka before, but those two had left for the underground grocery store in order to buy ice cream for Shana after she had given them ¥10000. As Yūji remarked about the tediousness of their work, Alastor told him to spread Power of Existence over the surrounding in order to identify Treasure Tools. Soon Yūji found a black telescope and looked through it at Shana. Suddenly, the abandoned floor had blacked out because Shana's flaming-hair, which had been illuminating the place, had turned off.

In the darkness, Yūji and Shana called out to each other, but find that they had swapped voices. From the feel of his body, Yūji could tell that there was something wrong. Shana walked to him, grabbed his hand, and used Power of Existence to produce a crimson light. They could then confirm Yūji was in Shana's body and Shana was in Yūji's body. As Alastor and Shana interrogated him, Yūji told them about the black telescope, which Alastor identified as Reshuffle, a Treasure Tool which swaps the Aggregate Will of the one who looked through it with the one that was looked at. As Alastor told them that they could return to normal if Reshuffle was used again, Yūji reached for his chest in relief, only to be blown away by a punch from Shana.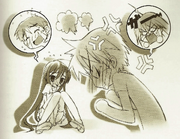 As Yūji got up, his skirt was turned up, and as he pushed it down, Shana strangled him. After Yūji couldn't find Reshuffle around him, Shana theorized that after Reshuffle's effect had activated, she had thrown it behind her as she had been doing to the Treasure Tools she had been examining. Suddenly Alastor warned them not to let anyone else know that they had swapped bodies. As they hear that Satō and Tanaka had returned, Shana told Yūji to manifest Yogasa, as Shana could no longer do it due to being in Yūji's body. Following her advice to visualize the "Flame-Haired Burning-Eyed Hunter" and add Power of Existence to that visualization in order to manifest it, after numerous attempts, Yūji manifested Yogasa, though he mistakenly brought out her flaming-hair and burning-eyes and the Nietono no Shana as well. To help him to return Nietono no Shana to Yogasa, Shana explained more about Yogasa to him. Though he was able to return the sword, he had cut Shana's blouse due to showing off and was punched by her again.
As Satō and Tanaka approach, Yūji began to collect Treasure Tools into Yogasa in order to search for Reshuffle later in Yūji's room. As he finished up, the two arrive. Yūji and Shana unskillfully act as each other while trying to irritate each other, with Shana laughing foolishly as Yūji and Yūji grabbing the pair's bags of ice cream and greedily eating them as Shana. As Satō was about to ask Alastor what was wrong with the two, the Demon God suddenly made an excuse for Shana and Yūji to leave. Left by themselves, Satō and Tanaka wondered what is keeping Margery and lamenting that the two had taken all of the ice cream.

Shana and Yūji left the Yoda Department Store and ran through the underground shopping center. Shana had given Yūji his shirt back to cover her body, due to him cutting her underwear as well when he botched returning Nietono no Shana. An argument ensued as to whose sweat was on Yūji's shirt. They reached above ground on the main street near the destroyed Misaki City Station. From an open-air café, Margery and Matake Ogata were sharing a table and spotted the two. Forgetting that she was in Yūji's body, Shana approached the two and stared at Ogata, thinking that Margery was revealing The Truth of This World to her. When they looked at her with suspicion, Shana was in a jam, though she was more concerned about Margery laughing at her if she found out they had swapped bodies than Alastor's warning. Yūji tried to diffuse the situation by casually greeting them, something Shana would never do. Ogata truthfully told them that she and Margery had run into each other and that she was getting consultation from Margery, like she had on a previous occasion. Shana abruptly pulled Yūji away and the two left. Ogata and Margery continued their conversation, which was about Ogata inviting Eita on a date.

Dispirited, Shana and Yūji walked on to the Sakai Residence, nearing Misaki Bridge. Shana had eaten all of the ice cream, of which there had been over twenty. Behind them, a boy called out to Yūji (Shana) and tried to reach for his shoulder from behind, only to be slammed into the ground. The boy was "Glasses Man" Hayato Ike. Yūji urged Shana, who was in his body, to show concern for his best friend, but her acting ability was deplorable. As Ike got back to his feet, someone called out to him from the crowd, the person who Yūji and Shana had most not wanted to see; Kazumi Yoshida.
Yoshida greeted both Shana and Yūji happily, but for Yūji, who was in Shana's body, he felt a subtle pressure from a competitive side of her he had never seen before, and he thought that she was scary. To escape from Yoshida, Yūji interrogated Shana for slamming Ike. Seeing a defiant and arrogant Yūji (Shana) arguing back, Yoshida's heart throbbed, though she felt uneasy. As the sharp Ike remarked on how different Yūji (Shana) was acting, Shana (Yūji) changed the subject. Yoshida and Ike had went to the bookstore near Misaki Station to find books after unexpectedly meeting in a smaller one near Yoshida's house the previous day. Ike told them that Satō and Tanaka were supposed to come, but thanks to their absence, it was like he was on a date with Yoshida. As Yoshida had gotten sulky from the joke, Yūji laughed accidentally, making her further depressed upon seeing her rival laughing. Ike whispered in Yūji's ear that he was being serious. However, the one who had heard this was not his best friend who he had told his feelings for Yoshida to before, but a girl who realized for the first time that other people harbored entangled feelings like she had for a certain someone.

After the two had run away from Ike and Yoshida, Shana seemed to be lost in thought from what Ike had said to her. As Yūji thought about Shana's Flame Haze body perspiring, he was reminded of one last acquaintance they have yet to encounter; Wilhelmina Carmel. Shana told him that Wilhelmina had gone to investigate the destroyed station. Alastor warned the two that they must especially keep Wilhelmina from finding out about their situation. Then, the two make eye contact with Wilhelmina herself, who was eating at a fast food restaurant. Yūji and Shana were frozen as Wilhelmina finished eating and confronted them. When she asked Shana what they were doing, Yūji, who was in Shana's body and was recently nearly killed by her, overcame his terror to mumble that they weren't slacking off. As Yūji (Shana) called Shana (Yūji) and idiot, Wilhelmina was angered. Alastor quickly tried to save the two again with an excuse, and as they were leaving, Shana unintentionally called Wilhelmina by first name while in Yūji's body.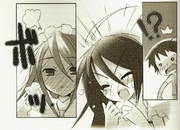 Wilhelmina sent a ribbon at Yūji's temple, but Shana reflexively blocked it, making her even angrier. As Wilhelmina continued to attack Shana with stronger attacks, Yūji thought about how to stop the fight. His solution was to tell Wilhelmina that he loved her using Shana's body. With Wilhelmina deeply embarrassed, Yūji and Shana escaped. As they flee, Yūji countered Shana's protests by saying that it wasn't really a lie, to which she agreed.

Yūji and Shana had finally arrived at the Sakai Residence. Shana told an exhausted Shana that he was exhausted because he couldn't control Power of Existence properly. As she rushed him continuous times to enter the house, Yūji was uneasy as to why Shana was in such a hurry, wondering if Reshuffle had a side effect. Inside, they were greeted by Yūji's mother, Chigusa Sakai. As Chigusa offered him a bath, Yūji became embarrassed as to what that would entail. From up the stairs, Shana shouted at him to hurry with his body, prompting Chigusa to ask her son to come down and apologize to the girl for shouting. For some reason, Shana apologized but refused to come down the stairs. Though she noticed their strange behavior, Chigusa let the two go. In Yūji's room, Shana had gone pale with Yūji's body. Thinking that she would die from a side effect of Reshuffle, caused by his mistake, Yūji raged at himself due to the fear of losing someone irreplaceable to him. He brought forth Yogasa and let out all the toys at once, flooding the room. As the wave of toys descended, Shana dived towards Yūji.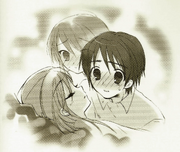 Shana had protected Yūji, though he had fainted from the impact. As her chest throbbed and her face burned, Shana moved in to kiss Yūji when she heard Chigusa calling out to them from downstairs. After berating herself that a kiss between the two would mean nothing without them making a vow together, Shana touched her own hand in order to activate a Fūzetsu. Yūji woke up, but when he asked her if she was alright, Shana answered cryptically. As Yūji was absorbing the toys into Yogasa, Shana stared at the circling toys and grabbed at something. Afterwards, she showed it to Yūji. It was a black tube, Reshuffle. As she prepared to look through it at Yūji, Shana mischievously told him to "prepare himself". After the two return to their own bodies, Yūji grabbed his stomach. As Shana told him to "go quickly", Yūji ran down the stairs. It was the ice cream affecting Yūji's weaker body. After a good laugh, Shana asked Alastor for the secret of Reshuffle. After she promised to destroy it, he told her that it would only work if there was no wall between the two people's hearts, showing how close and important the two were to each other. It was something Alastor didn't want to admit, but he had accepted it and told her not to tell anyone else.
Shana deactivated the Fūzetsu but the damage in the room was intact due to it having occurred before the Fūzetsu was cast. She told Chigusa that she and Yūji had a fight. When Chigusa noticed that her hand was hurt, Shana noticed that she had subconsciously destroyed Reshuffle in order to keep her promise with Alastor. When Chigusa asked whose fault the fight was, Shana put all the blame on Yūji.

Later, at the Hirai Residence, Wilhelmina was disappointed that she couldn't knock Yūji out before. That night, when Shana returned, she was greeted with mountains of ready-made food and sweets for dinner.
Characters in Order of Appearance
Edit
Mentioned
Edit
Powers and Abilities Used
Edit
Flaming-Hair and Burning-Eyes - Shana, Yūji in Shana's body manifesting it by mistake.
Power of Existence Manipulation

Spreading over the surroundings in order to activate Treasure Tools - Shana, Yūji.
Creating light - Shana in Yūji's body while drawing Power of Existence from her own body by gripping its hand.
Body strengthening - Shana in Yūji's body administered Power of Existence to her hand when punching Yūji, though she found it difficult to apply a suitable amount due to Yūji's hand being bigger and Yūji now being lighter. Shana had also used it to run for extended periods of time without getting exhausted.

Ribbons - Wilhelmina
Unrestricted Spells
Edit
Mentioned
Edit
Purifying Flame - Yūji remarked that Shana could have purified herself of sweat, but she stated that she didn't feel like it.
Treasure Tools
Edit
Reshuffle - Yūji, Shana in Yūji's body in order to reverse the effects of Yūji's use.
Nietono no Shana - Mistakenly manifested by Yūji in Shana's body.
Locations
Edit
Closed floor of the Yoda Department Store
Underground shopping center

Underground grocery store

Main street near the Misaki City Station
Sakai Residence
Hirai Residence
Shana: *Strangling Yūji* "Whwh, what, wh, where, where are you looking at---!!"
Yūji: "——gonna, d, die...... I'm really gonna die."
Shana: "This is for making strange postures with my body!"
Yūji: "......you're the one that sent me flying, Shana."
Shana: "Shut up, shut up, shut up!!"
Satō and Tanaka had arrived, Yūji was buried in toys*
Shana: "Hey, Yū...... Shana, how long are you planning to stay buried?"
Yūji: *Oh, I see.* "Errr, ahem, shut up, shut up, shut up."
In front of Satō and Tanaka*
Shana: "Shana, don't overeat or you'll wreck your stomach." *Steps on Yūji's foot* "Ah, sorry, I stepped on your foot. I get in a daze quite often."
Yūji: "I, I don't really mind. Never mind that, if I don't have any sweet food, I'll die." *swallows ice cream*
Kazumi seeing an defiant and arrogant Yūji (Shana) arguing with Shana (Yūji)*
Kazumi: *Somehow today Sakai-kun is, so cool......?*
(To Wilhelmina as Shana): Yūji: "Wilhelmina, I love you!"
(To herself after failing to kiss Yūji): Shana: *——I'm so, stupid. If we don't make the vow together, there's no meaning.*
Chigusa: "Why did you fight until it ended up like this? Was it Yū-chan's fault? Or was it yours, Shana-chan?"
Shana: "Mm...... Yūji. It was all Yūji's fault."
Margery had told Shana and Yūji about the closed floor of the Yoda Department Floor ten days prior, during the encounter with Dantalion at the Misago Festival in volumes VI and VII.
Yūji recalled the fight with Friagne in volume I and the Treasure Tools the Crimson Lord had used: Azure, Regular Sharp, Bubble Loot, Dance Party and Trigger Happy, as well as the sword-shaped Treasure Tools that his Rinne had used.
Shana mentioned that they could find a Treasure Tool like Orgel, which they found in volume IV, that can't be discovered with a single glance due to their common appearance.
A few days ago, Yūji's inexperience at handling Power of Existence caused him to almost kill Wilhelmina in volume IX when she had nearly killed him.
Yūji recalled the manifestation of Alastor when Shana was shot with Trigger Happy in volume I.
The Misaki City Station had been completely destroyed by certain Crimson Lord in volumes VI and VII.
Ogata stated that she was getting consultation from Margery for a second time, the first being in volume VIII.
Yoshida told Yūji (Shana) that she had fun on their date at Ōto Fancy Park, which occurred in volume IX.
Shana referred to the kiss between her and Yūji as a vow, something that she had learned from Chigusa in volume III.
Cultural References
Edit
One of the Treasure Tools that Shana examined was a "handmade-looking green cup", a reference to the brainwashing mug in the sixth episode of Choukou Senshi Changéríon, a 1996 tokusatsu TV show that the author, Yashichirō Takahashi, makes references to in all of his works.
In the darkness, Yūji sat in a seiza position with his buttocks on his heels. Their soft feel was what had first alerted him that he had swapped bodies with Shana.
Yūji had fusuma in his room, which were ripped after he flooded the room with toys from Yogasa.
Community content is available under
CC-BY-SA
unless otherwise noted.