Misaki City (御崎市, Misaki-shi?) is the main location for most of the events in the Shakugan no Shana series. It is a large city located within the outskirts of Tokyo. It is divided into west and east by the Mana River, with the eastern part being the industrial area and the western part being the residential areas.
In summer, the inhabitants of this city celebrate the Misago Festival, which is a tourist attraction.
The recent events involving beings from the Crimson Realm caused it to bear a nickname that is known by every Flame Haze: "Maelstrom of Warfare".
After the final war, Misaki City is restored to its normal state from the drastic distortion (ever since Friagne's arrival) with Lamies' Power of Unrestraint. It is later placed under observation by Flame Haze who did not leave for Xanadu.
Noted Locations
[
]
Misaki Bridge
[
]
This is a suspension bridge located in the middle of Misaki City. It also connects the two regions of Misaki City which are divided by the Mana River. It is noted for its two A-shaped towers which hold the bridge's support cables. These towers can be clearly seen from Yuji's school, Misaki Municipal High School.
Mana River
[
]
The river that flows across Misaki City. Its banks are divided into two by an artificial embankment inclining the banks at an angle. Parts of the riverbanks near Misaki Bridge have concrete stairs for people to access the lower level. This lower region near Misaki Bridge are one of the places where Yuji and Shana train.
Misaki Atrium Arch
[
]
Misaki Municipal High School
[
]
Misaki Clock Tower
[
]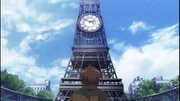 The original clock tower was featured in the last few episodes of Shakugan no Shana Second and was used to construct the Statue of Pride. It is located in the middle of the city square of Misaki City.
Yoda Department Store
[
]
A tall building located at the vicinity of the Misaki Bridge. Originally, the owner of the establishment abandons the building after a certain period of having business in it as a department store. Later on, Friagne turns it into his hideout, deploying his Haridan to watch over the city's activity.
Trivia
[
]
The architecture of Misaki City in the anime was likely inspired by the real life Saitama City and the cities which comprise it. The most notable resemblance is between Yoda Department Store and the real life Sogo Department Store in Ōmiya.
Gallery
[
]
[

]